Unsere Leistungen

Hier auf unserer Homepage können Sie sich über unsere Angebotspalette informieren.

Unsere Leistungen im Strassen- und Tiefbau:
- Sanierung, sowie Neubau von Kanälen und Versorgungsleitungen im kommunalen Tiefbau
- Sanierung und Neubau von Strassen und Wegen im kommunalen Strassenbau
- kleine bis mittelgroße Erschließungsarbeiten von Baugebieten für kommunale und private
Auftraggeber
- Außenanlagen
- Hof- und Zufahrtsbefestigungen
- Erdbewegungen

Unsere Leistungen im Hoch- und Gewerbe- bzw. Industriebau:
- Tankstellenbau
- Sanierung und Neubau von Wohn- und Gewerbebauten
- Altbausanierungen
- An- und Umbauten
- kleinere Abbrucharbeiten

Für Ihre Fragen und Wünsche steht Ihnen ein kompetentes Team zur Verfügung. Wir helfen Ihnen gerne, nicht nur bei der Ausführung, sondern auch bei der Planung.

Die folgenden Bilder zeigen Ausschnitte unserer Leistungspalette.

OUR SERVICES

Here on our homepage you can learn more about our range of road construction and civil engineering services. We specialize in construction and reconstruction of canals and utility lines in the public civil engineering sector.

Reconstruction and construction of municipal roads and paths - small to medium sized construction development of public and private properties for municipal as well as private clients. Landscaping - yard and driveway compaction - earth moving.

Our architectural construction services include; commercial and industrial construction as well as gas stations: - conversions of residential and commercial buildings - retrofits minor demolition work. Our competent team will be happy to answer any questions and wishes.
We're here to help, not only in execution but also in planning.

The following images show work samples of our services.

Umbau Kreisverkehr Tübingen, Gewerbegebiet Steinlachwasen
Ausführung 2007/2008

Renewal of a traffic circle in Tuebingen, commercial district Steinlachwasen
Realized in 2007/2008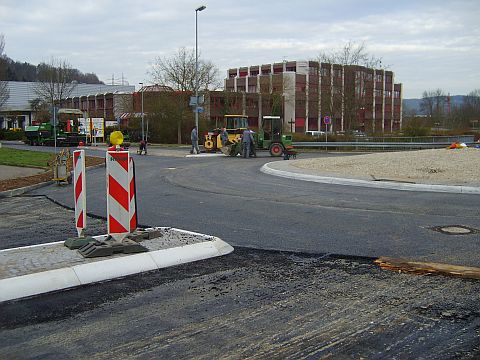 Tiefbau für Kabelarbeiten in Rottenburg/Neckar
Ausführung 2008

Civil engineering for cable trench works in Rottenburg/Neckar
Realized in 2008
Feldwegeunterhaltung Stadt Balingen
Ausführung 2008

Rural roads reconstruction/maintenance for the city of Balingen
Realized in 2008
Belagsarbeiten in Poltringen im Zuge der Gaserschließung durch die Stadtwerke
Tübingen und die Gemeinde Ammerbuch
Ausführung 2008

Road works for the town of Poltringen due to gas mains renewal for the public utility
company of Tuebingen and the municipality of Ammerbuch.
Realized in 2008